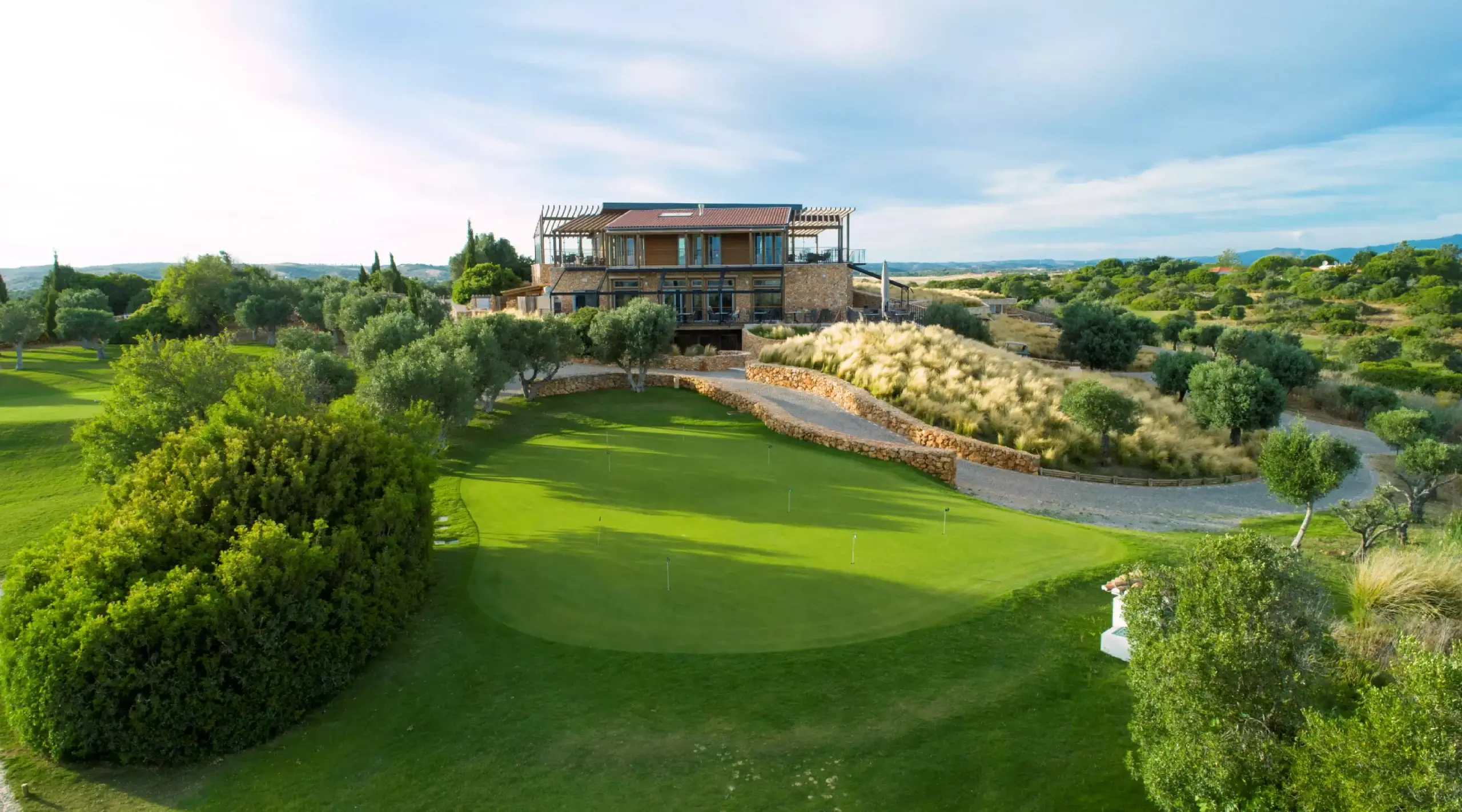 Espiche Campo de Golfe S.A.'s commitment to Privacy
Espiche Campo de Golfe S.A. (hereinafter "we", "us" or "the Company") is committed to ensuring the protection and privacy of client and user data obtained through the use of our products and services.
As such, we have compiled this Privacy Policy so as to disclose the terms in which we collect and process personal data.
Who is the Data Controller?
Espiche Campo de Golfe S.A. is the entity responsible for processing personal data and also for determining the purposes and means for and by which data is processed.
Should you need to contact the data controller, you can do this by making use of the contact details below:
Marketing Department: asantos@espichegolf.pt
What is personal data?
"Personal data" refers to any information relating to an identified or identifiable natural person. A person is considered identifiable if they can be directly or indirectly identified through their name, ID number, location data, electronic identifiers or any other piece of data that may reveal their identity.
What kind of data do we process?
We collect and process the following kinds of personal information:
– Bookings: names, e-mail addresses, phone numbers, postal addresses, payment methods and booking details.
– Recruitment: names, e-mail addresses and CV information.
– Newsletter subscriptions: names, e-mail addresses and nationality.
How do we collect your data?
Personal data may be collected through the following means:
(a) E-mails
(b) Our website
(c) Telephone calls
(d) In person
Collected data is processed and stored under strict compliance of applicable personal data protection laws. Data is stored in databases specifically created for storage purposes by us or by our third parties we subcontract.
Certain personal data collected through our website derives from required fields without which Espiche Campo de Golfe S.A. would not be able to provide you the services or information you request. When the provision of information is compulsory, we will always inform you of the nature and reason behind this requirement.
Why do we collect and process your data?
Client data is used to be able to deliver and manage services purchased, implement and manage contractual/business relationships, handle complaints and suggestions, as well as for analysing, improving and attending to client needs and interests. Nevertheless, by providing us with your consent, you may also enable us to use your personal data for other purposes, such as (i) sending you institutional information, (ii) including you in competitions and market surveys, (iii) sending you marketing communications (including information on campaigns and promotions on services and products).
What grounds allow us to handle and process your personal data?
– Your consent: when we have received your express prior consent — be it in writing, orally or by you having selected a checkbox — and as long as this consent has been provided freely, you are informed of it, and it is specific and unambiguous. A few examples are you consenting to receiving marketing messages, allowing yourself to be profiled or authorising us to share your data with third parties; or
– Contract execution and pre-contractual diligence: whenever the processing of data is necessary for entering into, executing and managing contracts held with us, such as for requesting information, preparing service proposals, providing services, managing contact information or complaints, as well as for invoicing and processing or collecting payments; or
– Complying with legal obligations: whenever the processing of data is necessary for complying with legal obligations to which we may be subject, such as forwarding information to law enforcement, judicial, tax or regulatory authorities; or
– Legitimate interests: when the processing of data is the result of a legitimate interest of ours or of that of a third party, such as for improving the quality of services, detecting frauds, or whenever the reasons leading to the use of the data prevail over your data ownership rights.
For how long do we keep your personal data?
Personal data that is collected is processed under strict compliance of applicable laws and is stored in suitable databases.
We process and retain personal data in accordance with its respective purpose and within applicable legal periods.
Therefore, unless there are other specific legal requirements, data will be stored and retained only for appropriate periods of time and only to the extent necessary for the purposes for which it was collected; except in cases where you reasonably and legally exercise your right to object, request the data to be erased, or withdraw your consent for it to be stored or retained.
Video surveillance footage and related personal data gathered at our facilities will be kept for a maximum period of 30 days.
Examples are marketing and sales communications, maintaining data for handling billing complaints, processing guarantee claims or managing pending legal disputes.
How and when do we collect your personal data?
Personal data is collected through your consent or when you acquire services or products from us.
Data collection may occur orally, through writing or our website.
However, your personal data may also be collected from publicly accessible or other sources, such as travel agencies, who are equally responsible for guaranteeing the protection of data and security of information.
What are your rights over your personal data?
Under the Personal Data Protection Act, we guarantee your right to access, update, rectify, transfer or erase your personal data. You also reserve the right to file a complaint to the National Data Protection Authority.
We also grant you the right to object to the use of data you provide to us when it is for marketing purposes, targeted communication materials, or when we use it to add your name to lists or information services. If you don't object at the time data collection begins, you may send your request at any time thereafter.
To exercise these rights, please use the following e-mail address: asantos@espichegolf.pt or postal address: Espiche Campo de Golfe S.A., Sítio dos Matos Brancos, 701-N, 8600-114 Lagos
How do we protect your personal data?
We have developed logical, physical, structural and safety measures that are appropriate, necessary and sufficient for protecting your personal data against destruction, loss, alteration, dissemination, unauthorized access or any other form of accidental or illegal treatment.
Including:
– Whenever you are asked to provide credit card information, communications are sent through an SSL (Secured Sockets Layer) line, when using compatible browsers such as Google Chrome, Safari or Mozilla Firefox;
– We also use SSL protocol on all pages that request personal information, meaning that all communications made over the internet are encrypted. You can always check that your connection is secure by looking for the little padlock or key in the URL bar of your browser.
Changes to this Privacy Policy
We reserve the right to update or change this privacy policy at any time. These changes will always be updated on our different platforms.
How to contact us
If you ever have a doubt or a question regarding how we process your personal data, you may contact the Data Protection Officer ("DPO") through the following e-mail address: asantos@espichegolf.pt or through our postal address: Espiche Campo de Golfe S.A., Sítio dos Matos Brancos, 701-N, 8600-114 Lagos. Please address your inquiry to the Data Protection officer. We will review your case and reply to you as soon as possible.